Home » Grants
Grant Opportunities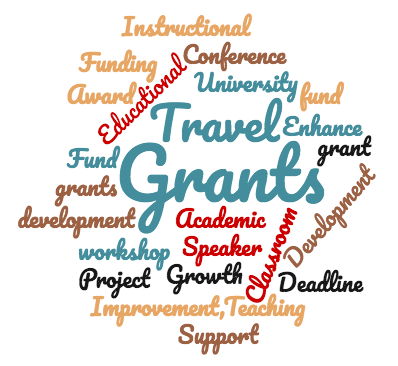 CTL offers several grant opportunities that support faculty professional development. You can apply for each grant by clicking on the grant title below.
All grant awards must be expended within the fiscal year that they are awarded (July 1st – June 15th).
All grants must receive approval prior to travel or project. PLEASE carefully read the Guidelines and Application for your Grant.
---
Institutional Improvement Grant
Funding for projects to improve the classroom environment and/or methods of instruction.
Select the grant title above to access the application.
*Requests for support for travel should be submitted through an Academic Advancement Grant (below).
Maximum Award
Determination based on scope of project and available funding.
($300 - $1,800)
Deadline & Guidelines
FY 19 Ongoing
Guidelines
---
Speaker Series Grant
Supports departments bringing guest speakers to campus to further and enhance UCM goals and mission.
Select the grant title above to access the application.

Maximum Award
$1000
($500 - $1,000)

Deadline
FY 19 Ongoing



---
Professional Enhancement Committee (PEC) Mini-Grant
Biannual committee funding for field research, resource materials, workshops, and panelists/consultants. The administration of this grant is handled through Faculty Senate.
Select the grant title above to access the application.

Maximum Award
Determined each funding period by committee.
($50 - $1,000)
Deadline

Spring 2019 Deadline is February 8, 2019 (11:59pm)

---
NEW: Academic Advancement Grant
Supports the disciplinary and pedagogical knowledge of the instructor and the reputation of the institution. This includes, but may not be limited to, instructional and professional development, program development, learning from an expert in the field, and research projects.
Select the grant title above to access the application.
Maximum Award
Up to $500 for in-Missouri travel;
Up to $750 for travel within contiguous 48 states;
Up to $1,000 for international travel/Hawaii, Alaska.
Applications are reviewed and approved as received in CTL, and funds are dispensed on a first-come, first-served basis.
Limitations
One Faculty Teaching Grant award per faculty member, per fiscal year (July 1 – June 30th).
Eligibility
All full-time faculty are eligible to apply for funding.

Applicants are encouraged to seek additional support from departmental, college, and/or other sources. Requests must be made at least one month prior to travel.

All travel must be completed by June 30th. If awardee cannot attend the conference, workshop, etc. originally approved for funding, the grant funding cannot be transferred to another grant request.

Deadline & Guidelines
FY 19 Ongoing
Guidelines
---
Request for Academic Leave
Academic leaves are granted to enhance the individual (faculty or staff), thereby improving the overall educational environment of the university. The granting of academic leaves will be based on the expectation that the faculty/academic staff member will utilize the period for professional growth and development as related to the individual's University of Central Missouri academic assignment and goals. Some appropriate goals for academic leaves include: to add knowledge in the academic field, to enhance teaching effectiveness, to broaden fields of competency, and/or to acquire other valuable professional experience.
Deadline
December 1
---
Scholarly Activity Fund
Maximum Award
Faculty are able to utilize between $750 - $1000 for a trip within the United States, depending on the travel destination, or $1500 for an international trip.
Deadline & Guidelines
Available through Graduate Education and Research.
---
UCM Alumni Foundation Opportunity Grant Program
Background
The UCM Foundation launched this grant program in 2013 to support targeted, student-centered activities resulting in significant outcomes that benefit the university's learning environment and students' academic experience. Grants start at $100 and range to an individual maximum of $5,000. Grants are funded on the fiscal year running July 1 through June 30. Opportunity Grants must fund expenses related to a specific project. Examples of allowable expenses include research, service projects, supplies, equipment, and software. Types of expenses not covered include salaries, release time, conference fees, travel, assistantships, or food costs. Applicants are limited to one proposal per year. Established in 1979, the foundation procures, maintains and administers philanthropic gifts that advance the university's mission and help students attain their college goals. In keeping with that mission, the foundation established the Opportunity Grant Program to support faculty and staff who have ideas but insufficient funding.
---
Previously Awarded Grant Proposals
Institutional Improvement Grant:
Sara Sundberg,
Getting Started w/Oral History, Baylor University, e-workshop
Susan Stockton,
GPL / UCM Athletic Performance Enhancement Program
Professional Enhancement Committee Mini-Grant:
Joanne Crawford,
Resource Materials - Titley, Anabat bat call detector
Stephen Price,
Field Research - camera equipment, monitor, magic arm, case
Robert Breshears,
Workshop - Natural Eye Landscape
Speaker Series Grant:
Ashley Wellman, Johnnie Williams,
Beyond the Barrel, Criminal Justice.